Back to School with RAGTIME: SCHOOL EDITION
Back to School with RAGTIME: SCHOOL EDITION
EllaRC is a bookwriter/lyricist and musical theatre lover. She's a new contributor to the MTI Marquee - add her as a friend on MTI ShowSpace or check out her musical theatre and social justice blog, Stageleft.
Over the next few weeks I'll be discussing the different musicals in the
MTI School Editions
collection, focusing on what makes each piece an excellent choice for production in a high school setting (you can also read my previous SCHOOL EDITION post from
9/7
).  This week I'll be looking at
RAGTIME: SCHOOL EDITION
with music by
Stephen Flaherty
, lyrics by
Lynn Ahrens
and book by
Terrence McNally
.
RAGTIME: SCHOOL EDITION
is based on the popular and acclaimed novel Ragtime by
E.L. Doctorow
. The musical intertwines the stories of three families at the turn of the 20th Century: an upper-class, white family from New Rochelle, New York; a middle-class, black family from Harlem; and an Eastern European, Jewish immigrant and his daughter living on the Lower East Side. Set against the backdrop of a changing country, the families become connected "as they confront history's timeless contradictions of wealth and poverty, freedom and prejudice, hope and despair, and what it means to live in America."
This musical makes a great
MTI School Edition
because it not only gives many students the opportunity to participate in a production, but it also connects directly to US History curricula. The show brings historical figures to life on stage, such as
Henry Ford
,
J.P. Morgan
,
Harry Houdini
, and
Emma Goldman
. By humanizing these figures, they become more interesting to students learning about them in history class. It also personalizes larger general themes that define classic, American ideology, such as women's rights, race relations, class prejudice and the place of immigrants in American society. Rather than asking students to look at these concepts in an abstract way, they are given emotional, likeable characters to identify with so that these struggles become real, personal, and important.
RAGTIME: SCHOOL EDITION
has a large, multi-ethnic cast with many varying-size solo roles. This gives a number of students the opportunity to shine, while opening up the chance for nontraditional casting and inclusiveness that does not necessarily exist in other pieces. The presence of a large chorus means that a large number of students can participate in the production. Furthermore, it allows students to work on challenging music, but in a way that is appropriate for them, as the score has been adjusted to suit younger vocal ranges.
This piece is particularly relevant to schools today because of its portrayals of racism and prejudice, and the destructive nature of those forces. Coalhouse Walker, Jr.'s struggle for equality and recognition as a human being is very moving, and told through songs like "Wheels of A Dream" and "Justice." Though many things have changed, America still grapples with issues of racial inequality in many spheres. Now, as much as ever, it is imperative that students have a way of learning about why prejudice is so harmful, and
RAGTIME: SCHOOL EDITION
is a show that makes that clear through the senseless death of Sarah to the explosive actions Coalhouse feels are his only recourse in an unjust system. Musicals help us feel what the main characters feel, and the beautiful music and heart-wrenching storyline of
RAGTIME:SCHOOL EDITION
can really help students connect to Coalhouse's struggle.
RAGTIME: SCHOOL EDITION
also personalizes the issue of immigration, which is extremely relevant in modern America.
RAGTIME: SCHOOL EDITION
personifies the legacy of the United States as a "country of immigrants" through the characters of Tateh and his daughter (The Little Girl). They follow the "traditional" early 1900s immigrant path of rags to riches, as Tateh goes from creating silhouettes to essentially "inventing" movies.  On the way, however, Tateh sings the song "Success", where he shares his frustration over the obstacles he encounters in America. The lifestyle he finds is much more difficult than the one he expected. Tateh is a loving, creative character, and through his words and music, his frustrations become our frustrations, as we hope for him to get what he wants. Tateh and The Little Girls' hope and success are the bedrock of the "American Dream". Today, immigration is being viewed in a very different light. The fond image of immigrants as hardworking dreamers has changed in some circles.  In a time when protecting human rights and upholding justice are dependent on remembering that most Americans are the descendants of immigrants,
RAGTIME: SCHOOL EDITION
is a wonderful piece to bring into schools to help students connect to the rich heritage of immigrants in the United States - most of whom are the students' own ancestors, grandparents, or even parents.
Immigration and racial justice are just two of the many currently relevant themes addressed in
RAGTIME: SCHOOL EDITION.
Mother's journey, starting with her realization that she can make decisions independently of her husband in "What Kind of Woman" and culminating in the song "Back To Before", is one that explores women's empowerment. Women still earn
77 cents to the dollar compared to men
in the United States; equality for women is clearly also still an important topic.
RAGTIME: SCHOOL EDITION
takes all of the important themes and lessons of
RAGTIME
and makes the show producible and valuable for high schools. The School Edition comes with study guides to help students really understand what they are performing or watching on stage. It takes the music, which is so helpful in making the characters three dimensional, and adapts it for younger voices, so students can fully enjoy it and relate to it. Any school looking to bring American history to life in a way that really shows how the past impacts the present needn't look any further than
RAGTIME: SCHOOL EDITION.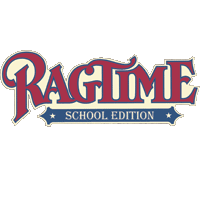 License
To get information about licensing or to hear clips from the show, click
here
.
Community
To visit the show on MTI Showspace for pictures and much more, click
here
.