Bring Your Shows to Life with OrchEXTRA® and RehearScore Plus®
Bring Your Shows to Life with OrchEXTRA® and RehearScore Plus®
What good is beautiful music if you don't have the musicians to play it or an orchestra pit to put them in? Despite high production quality in all other areas, sometimes theaters lack the resources to present a musical score in all its Broadway splendor. MTI is proud to offer two computerized products that will teach complex songs to your cast and deliver thrilling orchestral music to your audience, all the while saving you time and money.
With
OrchEXTRA®
and
RehearScore Plus®
, putting on your favorite show is just a click away.

The show you want to do is orchestrated for 16, but you only have 6 musicians. Can you still do it?
YES!
OrchEXTRA®
is a user-friendly music enhancement system capable of augmenting student musicians and professionals alike, allowing you to put on the shows you love without sacrificing the sound of full orchestration! Instruments missing from your ensemble, (but required in the score), are played by
OrchEXTRA®
, while your available musicians play live.  There are currently 28 show titles available for
OrchEXTRA®
, with each track recorded by a professional musician for authentic sound.  The system easily follows a conductor's fluctuating tempo, while handling subtle musical expressions.
"With OrchEXTRA® , the quality of the music matches the rest of our production's high quality." -Morrie Enders, Artistic Director, La Crosse Community Theatre


Teach those difficult melody/harmony parts with your very own computerized rehearsal pianist and director's tool.
RehearScore Plus®
is yours for the entire rehearsal period and gives you a complete rendition of the Piano-Conductor Score on CD-Rom, including scene changes, dance music, and underscoring. 
RehearScore Plus®
is available for 24 titles and lets you:


Conduct dance or choral rehearsals - vary the tempo and separate parts


Start and stop the song at any given point during the number - no more fast-forwarding looking for the right place


Isolate or increase the volume of any particular vocal line - pull up the altos in the chorus number so they can hear and learn their part more easily


Remove any vocal line once the actor(s) knows the part allowing them to rehearse with just the accompaniment


Transpose music up and down in half-step increments an octave in each direction


New Features for
RehearScore Plus®
allow you to:


Click and jump to ANY measure


Add cuts and vamps


Save your changes


Install
RehearScore Plus®
onto as many computers as you'd like, giving your entire cast access even outside of rehearsals, making those valuable rehearsal hours even more productive!
"We have had nothing but success in using RehearScore! This phenomenal service allows the Music Director to focus on the singers and, with the system flexibility, allows the performers to learn faster. It saves us time and money and makes our production better!"
- Douglas Berlon, Community Arts Institute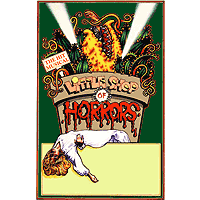 AN EXCITING LIST OF TITLES AVAILABLE NOW!
From
Annie
to
West Side Story
, from
Les Miserables School Edition
to our newest edition
Little Shop of Horrors
(soon to be available for large orchestra),
OrchEXTRA®
and
RehearScore Plus®
help put the music into your musical!

TITLES AVAILABLE WITH
OrchEXTRA®
TITLES AVAILABLE WITH
RehearScore®
For more information about
RehearScore Plus®
and
OrchEXTRA®
, please visit
http://www.mtishows.com/resources
.