DR DOLITTLE JR Trots, Crawls and Flies Onto Your Stage! The Classic Tale of Animal Kindness is Now Available for Licensing.
DR DOLITTLE JR Trots, Crawls and Flies Onto Your Stage! The Classic Tale of Animal Kindness is Now Available for Licensing.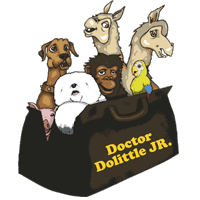 The classic tale of kindness to animals and animal kindnesses trots, crawls and flies onto the stage in
DOCTOR DOLITTLE JR.
All of the characters we've come to love through the stories of Hugh Lofting and the magical movie musical are given new life in this 60-minute stage version for performance by middle school-aged children.
The musical tells the classic tale of a wacky but kind Doctor who can talk to animals. The show takes the audience on a journey from the small English village of Puddleby-in-the-Marsh to the far corners of the world. Doctor Dolittle is wrongly accused of murder and, once pronounced innocent, continues with his search for the Great Pink Sea Snail--the oldest and wisest of the creatures on earth.
DOCTOR DOLITTLE JR.
provides directors the wonderful flexibility of casting performers of all ages and types, including a large ensemble that calls for actors to portray talking animals.
Our ShowKit of Materials is Like Getting a Musical in a Box!
When you license the rights to
DOCTOR DOLITTLE JR.
you will receive everything you need in our new and improved ShowKit of music and materials.  MTI and iTheatrics have redesigned the look, feel and content of the ShowKits to ensure they remain the absolute best educational musicals anywhere.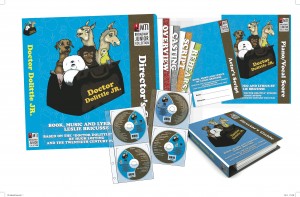 One of the most exciting new elements is the fully re-conceived Director's Guide, patterned after Broadway production show books.  Features of the new Director's Guide include:


A three-ring binder allowing you to carry all of your production information in one place and expand and customize the binder to meet your production needs


The Actor's Script section of the Guide features a full-sized script for easier viewing


Expanded resources in all production and curriculum aspects that reach three levels of directing experience: beginning, intermediate and advanced


A media disk of resources including audition sides and editable forms including a fully-editable program


Helpful Resources on MTIShowSpace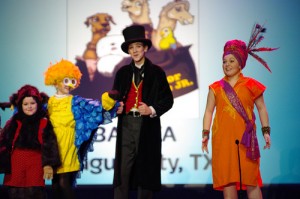 MTI ShowSpace is the place to get all the help you need putting on a production of 
DOCTOR DOLITTLE JR.
With MTI's help and advice forum,
Show Support
, you can get answers to questions that might come up during the course of your production.  If you're working on an MTI Broadway Junior Collection show (JR./KIDS), and have a question –
ask it here
! We'll make sure you get an answer.
You can also visit
Community Rentals
for the latest sets, props and costumes for rent, sale or trade!