Filichia Features: Jack and Annie Meet Charles Dickens
Filichia Features: Jack and Annie Meet Charles Dickens
Shouldn't little kids have their own musical dealing with the creation of A Christmas Carol?
A few weeks ago, we solved your 2016 holiday show needs when discussing A Charles Dickens Christmas, a marvelous musical for both adults and teens. It theorized how the esteemed British author came to write his most famous novel.
Now it's time to trumpet the somewhat similar A Ghost Tale for Mr. Dickens JR. If your theater caters to children and tweens, it must be among the titles you peruse for your 2016 holiday show.
Don't assume that with that "JR." at the end that the story centers on Charles Dickens, Jr., the famed author's first born who lived from 1837 to 1896. No, JR. means that, like dozens of other MTI titles with that suffix following a title, the show is an hour long – perfect for school assemblies and short attention spans.
To be accurate, the show's true title is Magic Tree House: A Ghost Tale for Mr. Dickens JR. Fans of kiddie lit, as it's chummily called, will recognize the first three words of the title. Yes, the show is based on one of Mary Pope Osborne's popular and illustrious Magic Tree House books: A Ghost Tale for Christmas Time, published in 2010.
(Hard to believe, isn't it, that in the last 23 years, Osborne has published no fewer than 53 of these books aimed at the six-to-twelve set? Whoops – make that 54 books in 23 1/2 years; Osborne has a new one, Balto of the Blue Dawn, which will be published next week.)
The magic in the first 28 of Osborne's books centered on enchantress Morgan Le Fay; since then, the next 25 have often involved Merlin, Morgan's contemporary and partner-in-magic. Here in A Ghost Tale for Mr. Dickens JR. both are important characters. Although Morgan and Merlin may only be legends, they'll help someone we know actually lived: Charles Dickens (1812-1870).
But, like Velma Kelly in Chicago, they can't do it alone. They need two residents of Frog Creek, Pennsylvania: Jack and Annie, brother and sister who are the Hardy Boys and Nancy Drew all rolled up into one.
I first encountered A Ghost Tale for Mr. Dickens JR. at Moorestown Theatre Company in southwest New Jersey a year ago. The pleasant memories linger on. Mark Morgan's fine production conveyed well what Osborne's books do: reading is a joyous activity.
Chances are that Ms. Osborne is quite happy with the musical adaptation given that her husband and frequent collaborator Will Osborne was heavily involved with it. He co-wrote the book with Jenny Laird and the lyrics with Randy Courts, the show's composer.
They've stuck to Ms. Osborne's template: Merlin and Morgan enlist Jack and Annie who had discovered the Magic Tree House – and the books that were in it – which allow them to travel back in time.
Onto Victorian England, a time and place that Annie doesn't particularly relish. She can't fathom the idea of wearing the then de rigueur hoop skirt, which she views as gruesome garb. Merlin says she can get around it if she dresses as a boy. He provides the clothes for both kids as well as something more fanciful: a magic violin that will get them back in time once Jack plays it.
As your Jack, try to cast a boy who actually knows his way around a violin. While of course there are many ways of creating the instrument's sound, live theater always impresses more if the person on stage is actually doing what his character is said to be doing.
Annie can't be too unhappy to be in pants, because she and Jack will find that their pockets are filled with money. How considerate of Merlin and Morgan to provide a per diem!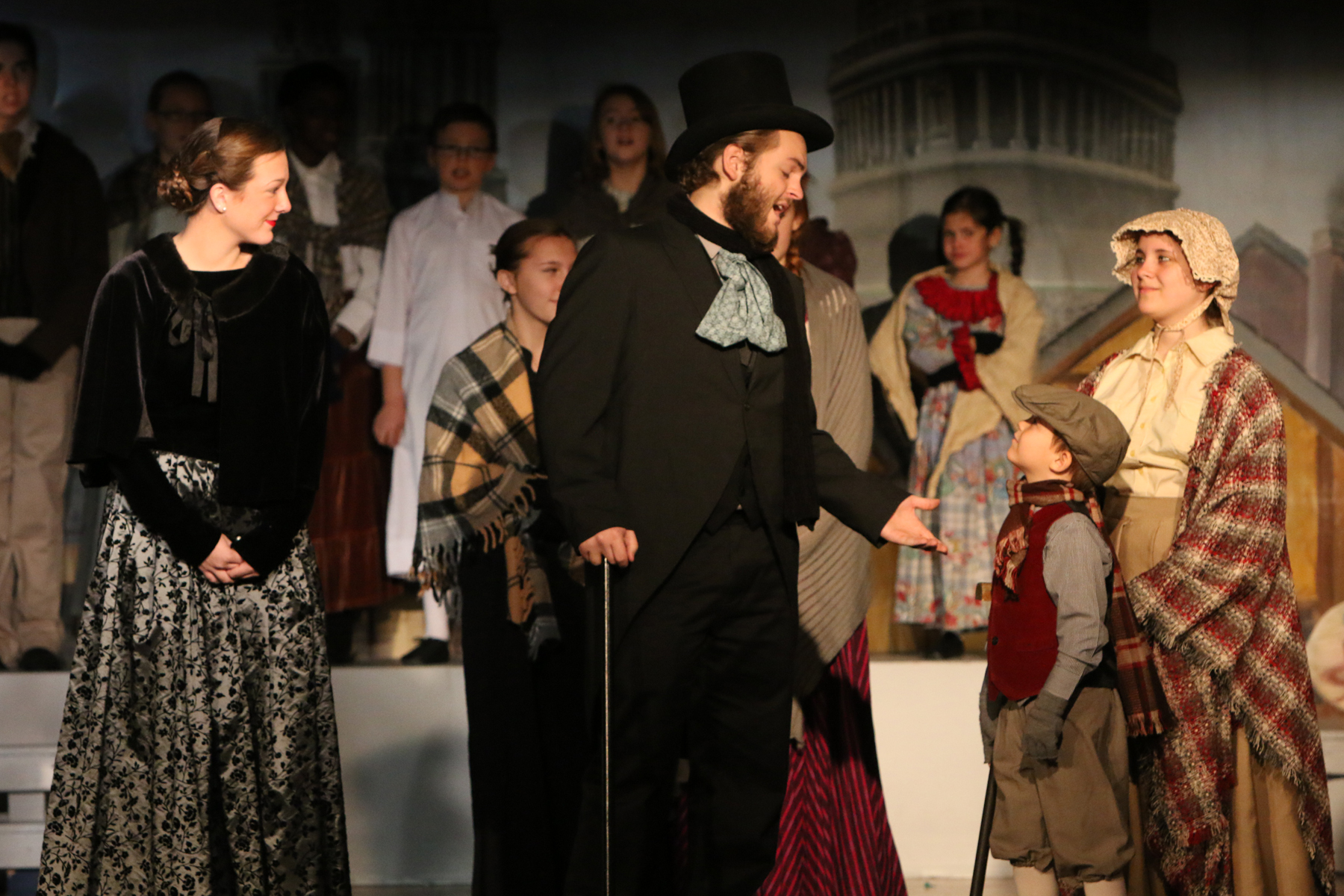 But wait! There's more! Here's a handsome velvet bag in which to carry that violin and – equally as important – books.
So now that Jack and Annie are flush, they can afford to take a cab to Dickens' house and handsomely tip the grateful driver.
At Moorestown, Morgan had his Jack (Ryan Coggin) and Annie (Juliet Morgan) bounce up and down during the ride. Potholes in the streets of London? No – remember that in those days a "cab" was a horse-drawn carriage.
Jack and Annie's adventure stalls when Dickens' housekeeper won't allow them to see the great man. So the kids borrow outfits from the chimney sweeps that Dickens had hired and get into the house through the flue.
Have you just raised your eyebrows and said to yourself "Is Osborne condoning breaking-and-entering?" Not quite; the kids DO intend to sweep out the chimneys while they're there. They just intend to get into a conversation with Dickens while they're at it.
The best childrens' shows offer some treats for adults, and this one indeed does. Dickens, in the midst of a bout with writer's block, recalls some of his most famous creations --  Samuel Pickwick, Oliver Twist and Nicholas Nickleby – as he hopes to come up with someone as memorable. The song, "Faces in the Mirror" will actually please (to use the famous expression) children of all ages.
But there is an occupational hazard to chimney sweeping: soot. It can make a person sneeze, and Jack does. At Moorestown, Coggin gave out with a particularly loud ah-CHOO! that caused the audience to give out with an equally loud gust of laughter that genuinely stopped the show.
The sneeze is certainly loud enough to get Jack and Annie discovered and thrown out of the house. Dickens leaves, too, and hails a cab. The kids summon one so they can follow him. And, as their good fortune would have it, here's the same cabbie they had before.
Ah, but he won't deign to let such dirty low-lifes into his cab. This provides a nice lesson to Jack, Annie and the kids in the audience. Like it or not, you are sometimes judged by what you wear. People tend to treat better-dressed people better and less well-dressed people not nearly as well.
When trouble rains, it pours. Jack's nifty velvet bag is stolen, but he and Annie are fast-enough runners to catch up to the thieves – just as a policeman (excuse me: bobby) arrives on the scene. Jack and Annie are relieved to see the lawman until he takes thieves' side. Once again their appearing as ragamuffins makes them guilty until proven innocent. Yes, clothes make the man AND the boy AND the girl.
Luckily, someone just happens to be around that can vouch for them: Dickens. He tells the bobby that he saw the kids with the bag some time before. Well, writers do have an eye and attention span for detail, don't they?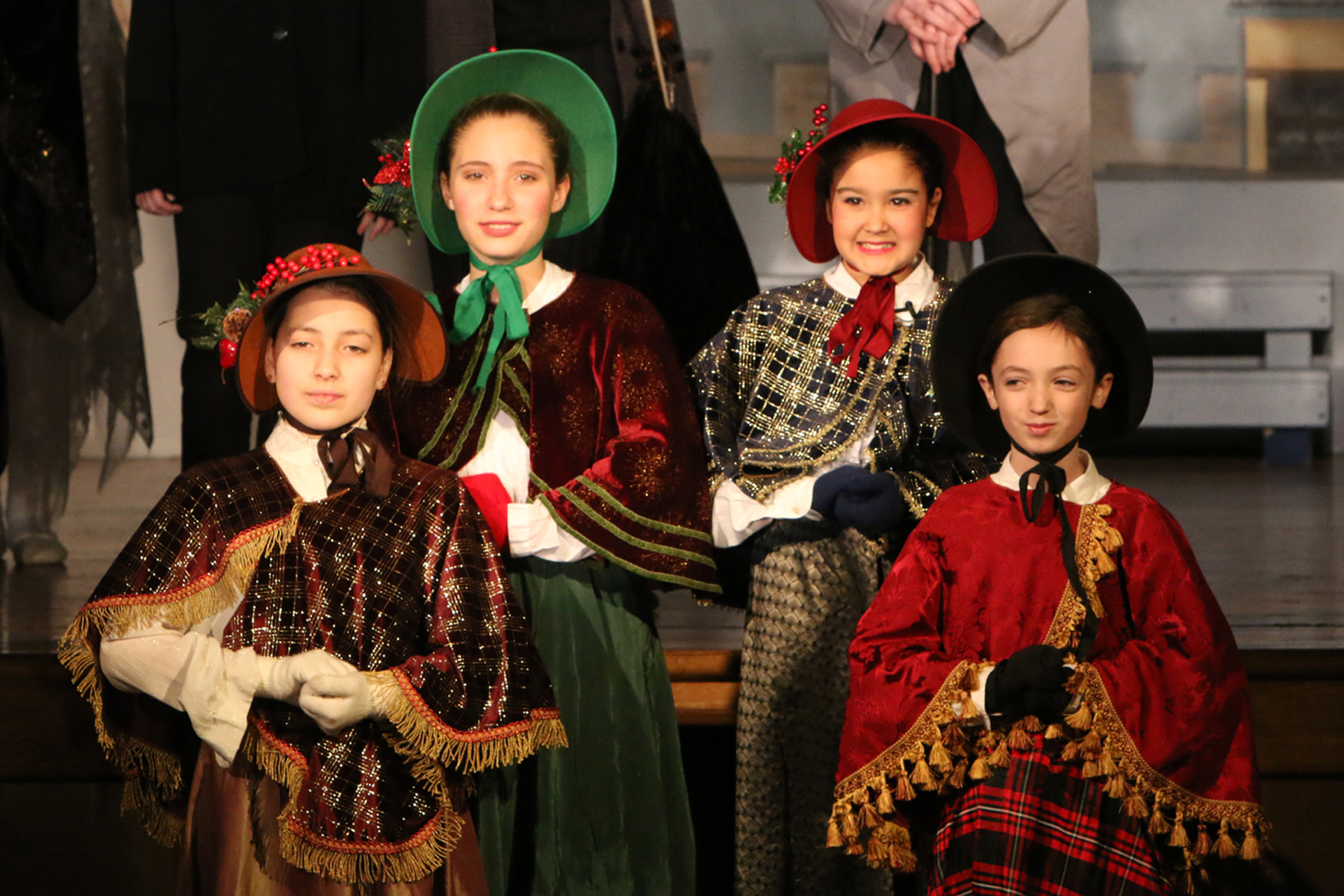 Any police action immediately gets passers-by to stop what they're doing and NOT mind their own business. Dickens takes the opportunity to chastise both the bobby and the crowd for jumping to conclusions simply based on what the kids are wearing. And so we get an issue very much in the news today: profiling – judging people mostly on appearance.
Dickens feels so bad for Jack and Annie that he takes them to dinner. At the posh restaurant, Dickens is treated with the respect usually afforded to royalty. Your audience should be fascinated to see that long before rock stars got this treatment, authors did.
What impresses Dickens much more than the adoration is a moment when an impoverished woman and her young child ask the restaurateur for some scraps and he heartlessly refuses them. What do you expect from a guy named Mr. Pinch (a Dickensian name if there ever was one)?
Dickens hasn't forgotten his roots; his family spent years in debtors' prison as a result of his father's profligate ways. Then came the futility: you need money to get you out, but you can't get out to raise the money. Talk about Catch-22!
So Dickens begs Mr. Pinch to be charitable, but the restaurateur simply says "Bah! Humbug!" You THINK you know where this is going, don't you? Not so fast – Dickens doesn't run home and immediately create Ebenezer Scrooge and A Christmas Carol. Instead, the encounter with Pinch makes him despair. All his career, he's been writing stories that are earmarked to make people behave better. But here's a stinker who reiterates that some simply have no interest in improving. What's the use of writing, then?
Jack and Annie realize that the only thing to change the distraught author's mind will be the magic violin. They've got magic to do, but even they're surprised to find that the magic comes in threes: Ghosts who show Charles that everyone from Queen Victoria to John Q. Londoner reads his books and are indeed affected by their messages. And THAT's what inspires Dickens to write A Christmas Carol.
Laird, Courts and the Osbornes saved their best message for last. Dickens, Jack and Annie acknowledge that "When you have a gift, you must give the gift away; you must give your gift to the world." Imagine what the world would have lost had Dickens not resumed writing. We wouldn't have 16 novels, four novellas, 39 short stories, 35 poems and, of course, A Ghost Tale for Mr. Dickens JR.
You may e-mail Peter at pfilichia@aol.com. Check out his weekly column each Monday at www.broadwayselect.com, Tuesday at www.masterworksbroadway.com and Friday at www.kritzerland.com. His book The Great Parade: Broadway's Astonishing, Never-To-Be Forgotten 1963-1964 Season is now available at www.amazon.com.