Filichia Features: Lerner & Loewe: If At First You Don't Succeed, You Still Might!
Filichia Features: Lerner & Loewe: If At First You Don't Succeed, You Still Might!
What a lucky break for Alan Jay Lerner – and for musical theater fans – that he had to use the restroom at that particular moment.
And that Frederick Loewe had been in the mood for a drink.
"That particular moment" was in July, 1942 at the Lambs Club in New York. Lerner, a 23-year-old budding bookwriter-lyricist, spotted the 41-year-old Loewe at the bar.
Lerner dared to say, "You write music, don't you?"
After Loewe admitted, "Yes, I do," Lerner added "We should write something together." That was pretty brave, for Lerner had had no Broadway experience; he was writing for an advertising agency.
And yet, it's not as if Loewe had become Richard Rodgers. Six-and-a-half years earlier, he'd had all of one song in the revue The Illustrators' Show that Broadway saw for all of five performances.
Then in 1938, Loewe wrote all the music for Great Lady, which played 20 times. It dealt with a character who's been put to better use in a current musical – Aaron Burr – and the Great Lady he married when he was 77 and she was 58.
That Loewe hadn't been represented on Broadway for nearly five years – and that he'd passed his 40th birthday – had to make him worry that he'd never succeed. Still, he'd make one last-ditch attempt with this enthusiastic novice.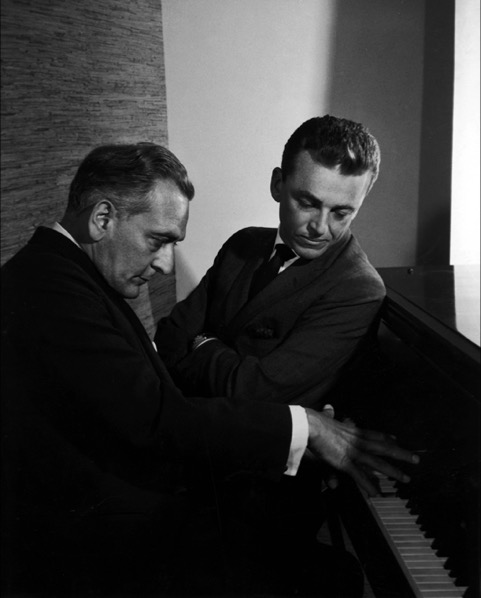 Only three months later, they had some songs in Life of the Party. It opened in Detroit and spurred Variety's critic to state "This one's not for Broadway." He was right; Motown was the show's one and only stop.
Thirteen months later, they wrote the entire score for What's Up. Given its plot, it might've been called What's This? A plane carrying The Rawa of Tanglinia (phony title; fictional locale) crashes in front of a girls' private school, but the passengers – all men -- survive. Romance ensues, as did a run of only 63 performances, partly because the Times critic could only call Loewe's music "agreeable rather than outstanding" and rather repeated himself by dubbing Lerner's lyrics "not particularly outstanding."
Third time wasn't quite the charm, but it wasn't a case of three- strikes-and-you're-out, either. In 1945, The Day before Spring told of a 10th college reunion where a wife sees the man she almost married way back when. Its 167 performances weren't enough for a hit, but the reviews were – at last! – encouraging. Loewe's music was called "generous and beguiling"; Lerner's lyrics were termed "brilliantly textured"; his book made the show "a welcome addition to the town's top musicals."
Most telling was Burton Rascoe of The New York World-Telegram: "The author and composer have worked with that harmony in creative collaboration that has distinguished the work of Richard Rodgers and Oscar Hammerstein."
At the time -- through Oklahoma! -- R&H already had the longest-running book musical in Broadway history. Its eventual 2,212 performances would remain a record for musicals for 13 years – until it would be surpassed by a Lerner and Loewe show.
(Guess which! It was often called "the musical of the century.")
The Day before Spring was sold to M-G-M, but no film was made. L&L couldn't have been broken-hearted, because Arthur Freed had signed others to write it. Besides, this was 1960, when Lerner and Loewe were flying high -- and had been for 13 years.
The reasons were Brigadoon, Paint Your Wagon, My Fair Lady, Gigi, and Camelot. All were successful enough to be made into movies, although Gigi was a film before it was a stage show.
Lerner has been praised for his ability to match his incisive wit with his skillful rhyming. Here's one example out of dozens: Camelot's King Arthur and Queen Guenevere discuss their subjects: "They obviously outshine us at turning tears to mirth; have tricks a royal highness is minus at birth."
Loewe was born in Berlin, but had his secondary schooling in Vienna. No wonder he was so good at writing waltzes: "Come to Me, Bend to Me" (Brigadoon), "All for Him" (Paint Your Wagon), "The Embassy Waltz" (My Fair Lady), "She Is Not Thinking of Me" (Gigi) and even the verse to "I Wonder What the King Is Doing Tonight" (Camelot).
He moved to New York in 1925 and began composing for the movies – but not in the way you think. In those days, silent movies gave pianists a score to play while the film was screened. Loewe didn't much like the music he was given, so he wrote his own. Little did he know that his melodies would eventually make the screen in six major movie musicals.
What's most impressive is that the team didn't get discouraged, as so many do after one or two failures together. L&L had four money-losers before their first success. Eliza Doolittle snarls "Just You Wait" to Henry Higgins -- which L&L appeared to be saying to Broadway as well.
They exuded taste, style, sophistication and elegance, except in the Western Paint Your Wagon, which, with its randy miners, didn't call for such virtues. Lerner came from money, but was able to abandon his hoity-toity upbringing to write in a raucous style; Loewe certainly didn't sound European-born with his rollicking music.
In the next five weeks, I'll devote one column each to My Fair Lady (May 26), Camelot (June 9), Brigadoon (June 16), Paint Your Wagon (June 23) and The Day before Spring (June 30). For Music Theatre International now has the rights to license these five Lerner and Loewe shows. If you want to do any or all, this is now the street where they live.
You may e-mail Peter at pfilichia@aol.com. Check out his weekly column each Monday at www.broadwayselect.com and Tuesday at www.masterworksbroadway.com. His book, The Great Parade: Broadway's Astonishing, Never-To-Be Forgotten 1963-1964 Season is now available at www.amazon.com.