MTI at the Tonys: Past and Present - continued.
MTI at the Tonys: Past and Present - continued.
Part II: Revivals.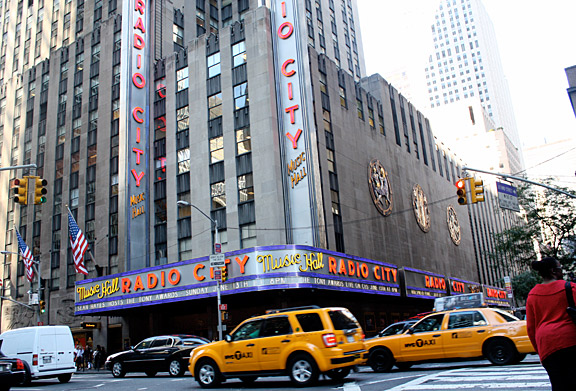 The actual word 'revival' can be defined in many ways. It can mean renewal, resuscitation and re-invigoration. In theatrical terms a revival refers to a new production of a play or musical that has not been recently performed. Yet for those of us who have long enjoyed the multitude of musical revivals that have graced the Broadway stage, a theatrical revival encompasses all the aforementioned definitions. It is no wonder, therefore, that the Tony award for Best Revival of a Musical has been hotly contested since its inception in 1994. Prior to 1994 plays and musicals were lumped together under one banner of Best Revival. We're extremely glad that the Tony committee realized that revivals of musicals deserved their own special award.
MTI wishes to celebrate the achievements and artistry of its many shows and authors who, over the years, have been nominated and won a Tony award for Best Revival of a Musical. These show contribute to the rich culture of the Broadway landscape and ensure its legacy.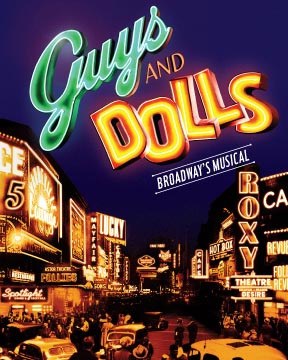 In 1992 a production of legendary GUYS AND DOLLS (book by Abe Burrows and Jo Swerlling), starring Broadway veteran Nathan lane, won the Tony for Best Revival (before the award was separated). Once again audiences were captivated by Frank Loesser's titillating lyrical and musical genius with songs such as "Adelaide's Lament" and "Luck be a Lady". In 1995 Broadway audiences were treated to more Loesser delights when HOW TO SUCCEED IN BUSINESS WITHOUT REALLY TRYING (Book by  Abe Burrows and Jack Weinstock and Willie Gilbert ) was nominated. Again in 2009 a revival of GUYS AND DOLLS, directed by Des McAnuff, was nominated allowing a whole new generation of Broadway audiences to experience, first hand, the joy of this show. This exposure of classic musicals to new audiences is, perhaps, one of the greatest gifts of a revival.
A revival also keeps esteemed authors in our minds. For example, the 1994 Broadway revival of DAMN YANKEES was nominated. The same creative team: George Abbott, Richard Adler and Jerry Ross went on to win the Tony twelve years later for the revival of their hysterically funny PAJAMA GAME. Thanks to a revival their talents did not go un-noted.
There is one composer whose name continually crops up in this category: Stephen Sondheim. Just last year the iconic WEST SIDE STORY (book by Arthur Laurents, music by Leonard Bernstein, lyrics by Stephen Sondheim) was given an update with the addition of Spanish Lyrics and received a nomination. WEST SIDE STORY received mixed reviews when it originally opened in 1957. It's conception, choreography and characters were considered controversial, a notion which might surprise some modern audiences. The addition of Spanish lyrics to the 2009 version recaptures some of the original vitality and cutting edge nature of the original production.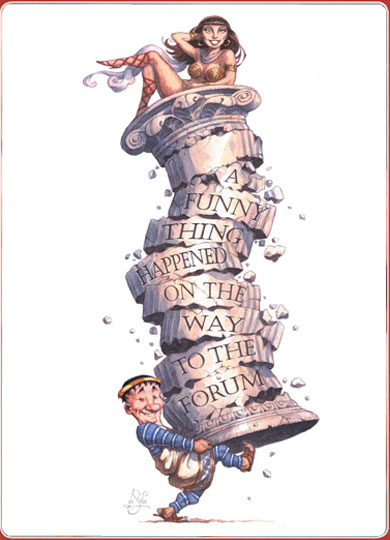 In 1996 both A FUNNY THING HAPPENED ON THE WAY TO THE FORUM and COMPANY were nominated. In 2002 Sondheim scored another victory when INTO THE WOODS won the award. COMPANY went onto win the Tony in 2007, the same year that CHORUS LINE was also nominated. A whole year could not go by without a nomination and so in 2008 the revival of SUNDAY IN THE PARK WITH GEORGE received one too.
Many different shows are revived for many different reasons. The continued revival of the works of Stephen Sondheim, suggest his music and lyrics touch the consciousness and imagination of both audiences and artists in a unique way. His works simply can't be left alone. Directors want to delve into their depths and audiences want to re-live and re-experience his talents. This year the current Broadway revival of A LITTLE NIGHT MUSIC (book by Hugh Wheeler) is up for the award.
Directed by British impresario Trevor Nunn, A LITTLE NIGHT MUSIC, is playing to packed houses. The fabulous Angela Lansbury stars as Madame Armfeldt and Catherine Zeta-Jones has been nominated for her performance as her desirable daughter, actress Desiree Armfeldt. Zeta-Jones is rumored to be performing her understated and deeply moving rendition of "Send in the Clowns" at the actual Tony ceremony this year. "Send in the Clowns" is one of Sondheim's most famous songs, much to the composer's surprise. Artists such as Frank Sinatra, Barbara Streisand and now Barbara Cook (currently staring in Sondheim on Sondheim) have all recorded this bewitching ballad. The show features many other wonders such as "Now" and "The Millers' Son" all of which add to its appeal and make it ripe for revival.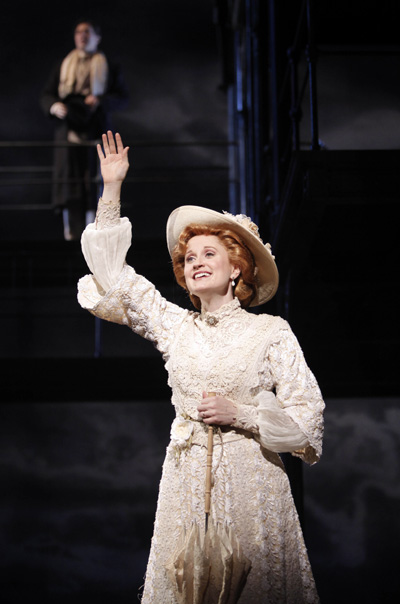 Christiane Noll as Mother. Image by JOAN MARCUS
Also nominated this year for Best Revival of a Musical is the 2009 production of Stephen Flaherty and Lynn Ahren's RAGTIME (book by renowned author Terrance McNally). This sweeping epic deals with issues of race, gender and class at turn-of-the-century America in a way that is deeply relevant to modern day society. The music, a heady blend of differing styles from jazz, ragtime to waltzes reflects and connects the story of the three main families. The heartbreaking plight of the characters, the moving melodies, combined with the bittersweet ending continues to astound and uplift viewers. It is easy to understand why a revival was called for. Again, songs such as "Your Daddy's Son" have become part of the cannon of classical musical theatre and allowed actresses, such as Audra McDonald who won a Tony for her performance, to showcase their talent. In the 2009 revival Stephanie Umoh played the part of the world weary Sarah to much critical acclaim. Christiane Noll has been nominated for her rendition of the role of Mother.
Theatrical revivals can, therefore, serve many varied and wonderful functions. The cheeky orphan ANNIE can re-inspire precocious girls (nominated in 1997), 1776 can resurrect American history (nominated in 1998) and A LITTLE NIGHT MUSIC and RAGTIME can simply re-affirm our love of musical theatre.
MTI wishes all the nominees for Best Revival of a Musical great good luck.