Trick Or Treat With A Spooky MTI Musical!
Trick Or Treat With A Spooky MTI Musical!
Outside the MTI offices, the wind is getting colder, the air is getting crisper, and the leaves are getting more and more colorful.  It's undeniable: Halloween is fast approaching.  Need a recommendation on which cast recording to play while carving Jack-o-Lanterns, curling up in your favorite armchair with a mug of hot cider, or handing out fun size candy bars to a slew of goblins and ghouls?  Here are a few MTI shows guaranteed to add to the chill in the air-or to help keep you warm by the fire.
CAPTAIN LOUIE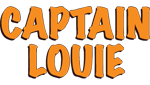 With Stephen Schwartz's success writing for witches in WICKED, it's no surprise that he'd be responsible for what must be the epitome of Halloween shows.  Interestingly enough, CAPTAIN LOUIE, with a book by Anthony Stein, doesn't have a single witch, Munchkin, or talking animal.  What it does have is a lonely little boy named Louie, who is spending his first Halloween in a new neighborhood-without his friends.  Nervous about Trick-Or-Treating with classmates who could at best ignore him and at worse make fun of him, Louie uses the power of imagination to escape back to his old neighborhood.  After a memorable night of Trick-Or-Treating, Louie realizes that maybe making new friends isn't as scary as it seems.
For more information or to license CAPTAIN LOUIE, check out its
MTI show page
. To discuss CAPTAIN LOUIE, visit its
MTI ShowSpace page
.
ANNABELLE BROOM, THE UNHAPPY WITCH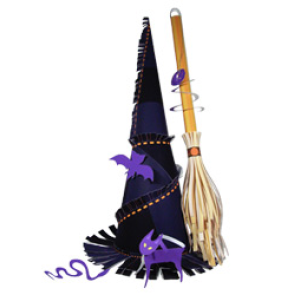 art by Takako Takahashi
Witches are ugly, mean-hearted creatures-right?  Not according to Annabelle Broom.  More interested in being fashionable than frightening, Annabelle bemoans her outdated black witch's clothes and her failing grades in her witch classes.  Can't she just wear pink and figure out how to keep her skin healthy instead of learning how to be cruel to people?  The head of the witches' union thinks otherwise.  She orders Annabelle to scare two lost children.  But despite Annabelle's efforts to be mean, she agrees to help the children find their way home.  When the witches' union hears of this, they rush to destroy Annabelle before her good deeds take away their powers.  Antics ensue as Annabelle, the witches' union, and the lost children discover the truth about witches-and the consequences of good deeds.
For more information or to license ANNABELLE BROOM, THE UNHAPPY WITCH, visit its MTI show page. To discuss the show, visit its MTI ShowSpace page.
SWEENEY TODD
2005 Broadway revival cast of SWEENEY TODD, starring two-time Tony Award winner Patti LuPone--from playbill.com
What's Halloween without judicial corruption, revenge killings, and delicious baked goods?  Celebrate this creepiest of  seasons with composer/lyricist Stephen Sondheim and bookwriter Hugh Wheeler (A LITTLE NIGHT MUSIC) as they tell the tale of a barber unable to contain his rage in Victorian England.  It's been more than a decade since Sweeney Todd had been unjustly sent to Botany Bay, and he can't wait to see the wife and baby girl he left behind.  When he discovers the judge who imprisoned him had also driven his wife to commit suicide and took his daughter to raise as his own, Sweeney swears revenge.  He sets up shop as a barber again, and with the help of the lovesick and derranged Mrs. Lovett, Sweeney begins to find vengence in the baking of piping hot meat pies...complete with a special ingredient.   Wheeler's suspense-filled book and Sondheim's complex and epic score are gaurenteed to chill even the most jaded horror fans.
For more information and to license SWEENEY TODD, check out its
MTI show page
. To discuss this show, visit the SWEENEY TODD
MTI ShowSpace page
.
JEKYLL & HYDE
Robert Cuccioli tackles the roles of Dr. Jekyll and Mr. Hyde on Broadway
This timeless tale of duality is a perfect metaphor for Halloween-a night when the mischievous imp in all of us holds sway.  Only, in Frank Wildhorn and Leslie Bricusse's Tony nominated Broadway musical, mild-mannered Dr. Henry Jekyll's alter ego, Edward Hyde, doesn't just emerge once a year.  Wildhorn's rock-pop score is appropriately gritty and soaring, capturing Jekyll's desperation to rid himself of the monstrous Hyde and the life he hopes to regain.  Ballads like "This Is The Moment" and "A New Life" cut through generations of legend surrounding the characters, lending them a compelling humanity that has gripped audiences for over a decade.
For more information or to license JEKYLL & HYDE, check out its
MTI show page
. To discuss JEKYLL & HYDE, visit its
MTI ShowSpace page
.
DRACULA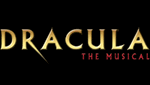 Before Bill Compton and Edward Cullen seduced the nation, one vampire reigned supreme: Dracula.  The Transylvanian count has survived over a century of movie adaptations, parodies, and novels, and the 21st century finds him deadlier than ever in Frank Wildhorn, Don Black, and Christopher Hampton's Broadway musical.  As usual, Wildhorn's guitar-laden rock-pop score infuses this classic work of literature with a gothic yearning, making Dracula less an agent of pure evil and more a tragic, romantic figure.  This Halloween, join Jonathan and Mina Harker, Van Helsing, and their stalwart band as they hunt down the insidious Dracula, and experience this enduring thriller for yourself.
For more information or to license DRACULA, check out its
MTI show page
. To discuss DRACULA, visit its
MTI ShowSpace page
.
YOUNG FRANKENSTEIN
Shuler Hensley and Roger Bart put on the Ritz in Broadway's YOUNG FRANKENSTEIN--from playbill.com
Based on the Mel Brooks' classic comedy, YOUNG FRANKENSTEIN, with book by Tony Award-winners Thomas Meehan (ANNIE, THE PRODUCERS, HAIRSPRAY) and Mel Brooks (THE PRODUCERS), and music and lyrics by Mel Brooks, the show presents a humorous take on a Halloween favorite.  Frederick, mad scientist Dr. Victor von Frankenstein's grandson, is the dean of anatomy at a prestigious New York medical school, and has successfully distanced himself from his infamous ancestor - until he discovers he has inherited his grandfather's Transylvanian castle.  Frederick is determined to settle his grandfather's affairs and get out, but between a dream and encouragement from his grandfather's workers, Frederick decides to continue experiments in reanimation.  But when the resulting monster escapes into the Transylvania countryside, Frederick and his team frantically hunt him down, with hilarious results.  For both fans of the movie and those new to Mel Brooks' comedic brilliance, YOUNG FRANKENSTEIN sheds the light of laughter on even the darkest of Halloween nights.
THE TOXIC AVENGER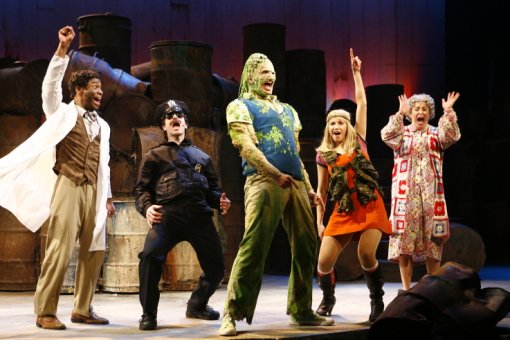 The Off-Broadway Cast of THE TOXIC AVENGER
The newest addition to the MTI show family, THE TOXIC AVENGER is a delightfully campy romp through a callously polluted New Jersey.  Based on the cult film, this outrageous rock musical chronicles the fate of Melvin Ferd the Third.  When his beloved Sarah, a blind librarian, tells him that their mayor is allowing The Good Earth Company to pollute their town, Melvin is determined to clean things up himself.  Unfortunately, the mayor's henchmen throw Melvin into a vat of radioactive substance, transforming him into the superhuman Toxic Avenger--and enabling Melvin to clean New Jersey and its government in a whole new way.  With book and lyrics by Joe DiPietro (I LOVE YOU, YOU'RE PERFECT, NOW CHANGE) and music and lyrics by Bon Jovi's David Bryan, THE TOXIC AVENGER is now available for
Fast-Track notification
.
Whether the Halloween spirit urges you to look for more heartwarming fare, reach for a sinister classic, or pay irreverent homage to a tradition of horror, MTI has a Halloweeen show for you.