Remembering The Legendary Stephen Sondheim
Remembering The Legendary Stephen Sondheim
The following tribute was written in November 2021 for the passing of Stephen Sondheim. As we recognize his birthday on March 22, 2022 we are also happy to share this additional tribute from Myrna and Freddie Gershon: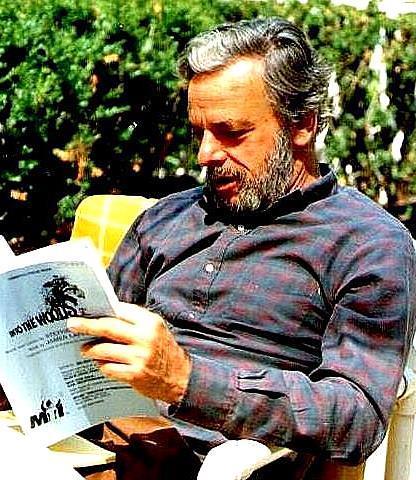 THERE'S A GIANT IN THE SKY...
WHEN YOU'RE WAY UP HIGH
AND YOU LOOK BELOW
AT THE WORLD YOU'VE LEFT
OF THE FRIENDS YOU KNOW
GLANCE DOWN AT THE FUSS
WHAT YOU MEAN TO US
OUR TEARS STILL FLOW
YOUR MUSIC'S HERE
FOR US TO HEAR
WE LAUGH WE CRY
YOUR WORKS LIVE ON,
STILL, IT'S GOODBYE
MUSIC SOARS
WE LOOK UP HIGH
KNOWING,
ONE MORE GIANT'S IN THE SKY
***
MTI is mourning the loss of our dear friend and author, legendary composer and lyricist Stephen Sondheim. For more than 40 years, MTI has had the distinct privilege of representing Mr. Sondheim's work, including 28 of his iconic musicals and revues, resulting in over 50,000 productions around the world.
The Stephen Sondheim Society notes that Steve was "widely acknowledged as the most innovative, most influential and most important composer and lyricist in modern Broadway history. For more than 50 years, he has set an unsurpassed standard of brilliance and artistic integrity in musical theatre. His accolades include an Academy Award, eight Tony Awards (more than any other composer) including the Special Tony Award for Lifetime Achievement in the Theatre, multiple Grammy Awards, multiple Drama Desk awards and a Pulitzer Prize." In 2015, he was awarded the Presidential Medal of Freedom.
MTI's Chairman Cameron Mackintosh shared:
"The theatre has lost one of its greatest geniuses and the world has lost one of its greatest and most original writers. Sadly, there is now a giant in the sky. But the brilliance of Stephen Sondheim will still be here as his legendary songs and shows will be performed for evermore. Goodbye, old friend and thank you from all of us."
Freddie Gershon, co-Chairman of MTI, summed up his feelings this way:
HEY OLD FRIEND
FUNNIEST GUY OLD FRIEND
ONE OF A KIND OLD FRIEND
IT'S COME TO THE END OLD FRIEND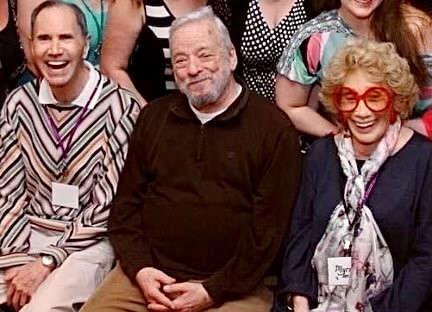 Stephen Sondheim with Freddie and Myrna Gershon
MTI's CEO, Drew Cohen, emphasized Sondheim's impact on countless theatre fans' lives:
"In addition to being considered the greatest composer of our time, Steve was a most vital part of the MTI family. Not only did we represent Sondheim's incredible collection of shows, but Steve was an ardent supporter of everything MTI did to expand the audience for musical theatre. In particular, he was an eager participant when Freddie approached him over two decades ago with an idea to abridge musicals so that younger students could perform them. Based on Steve's early endorsement of Broadway Junior, the collection was born, resulting in tens of thousands of productions and millions of new eyes, ears, and voices aware of and engaged in musical theatre."
Future historians: Stephen Sondheim was real. Yes, he wrote Tony & Maria AND Sweeney Todd AND Bobby AND George & Dot AND Fosca AND countless more. Some may theorize Shakespeare's works were by committee but Steve was real & he was here & he laughed SO loud at shows & we loved him

— Lin-Manuel Miranda (@Lin_Manuel) November 27, 2021
To help provide a testament to his genius and contributions to the arts and education, we have collected a sampling of articles and tributes created throughout the years.
Obituaries / Reactions
Theatre Mourns a Giant: Artists From Broadway and Beyond React to Stephen Sondheim's Passing - Playbill
Legendary Composer Stephen Sondheim Dead at 91 - Playbill
Musical Theatre Icon Stephen Sondheim Passes Away at 91 - Broadwayworld
Social: The Broadway Community Reacts to Stephen Sondheim's Passing - Broadwayworld
Stephen Sondheim, Composer of 'Follies,' 'Sweeney Todd,' Dies at 91 - Variety
Stephen Sondheim, Titan of the American Musical, Is Dead at 91 - The New York Times
About Stephen Sondheim
Broadway Jukebox: The Music of Stephen Sondheim - Broadwayworld
Articles / Features Through the Years
Days Before Dying, Stephen Sondheim Reflected: 'I've Been Lucky' - The New York Times, 2021
Stephen Sondheim Taught Me How to Be a Person - The New Yorker, 2021
Isn't It Rich - The New York Times Book Review by Paul Simon, 2010
Why Stephen Sondheim Is America's Greatest Living Writer - The Wall Street Journal, 2021
SONDHEIM AT 90: Stephen Sondheim, the Man Who Felt Too Much - The New York Times, 2020
From A to Y: Encyclopedia celebrates musical theater career of Stephen Sondheim - Herald Tribune, 2021
Side by Side With Sondheim: Alan Cumming Reviews a New Book About 'Sunday in the Park' - The New York Times, 2021
20 Stephen Sondheim Songs to Listen to Right Now - The New York Times, 2021
On Stephen Sondheim's 91st birthday, 856 words to make you fall in love with one of the greatest artists alive - Forward, 2021
Celebrate Sondheim with Free Reads of His Iconic Shows - Music Theatre International, 2021
What Gen Z Knows About Stephen Sondheim - The Atlantic, 2022
Decoding the genius of Sondheim: Six theater pros explain his mystique - Washington Post, 2023
Review: Stephen Sondheim receives an all-star salute at the Hollywood Bowl's 'Everybody Rise!' - Los Angeles Times, 2023
Archival Videos and Appearances
Watch Newly Released Interviews with Sondheim from the Library of Congress
He left us with so many words, but none enough for this post. Goodbye, old pal. Thank you, Stephen Sondheim, for so much brilliance in the theatre and sharing your music with us all. pic.twitter.com/Qe55GcDQeS

— The Tony Awards (@TheTonyAwards) November 27, 2021