Smashing Connections - MTI Authors and Actors Appear in NBC's Musical Drama
Smashing Connections - MTI Authors and Actors Appear in NBC's Musical Drama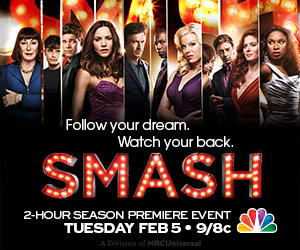 The Season 1 finale of
NBC's Smash
featured the first Boston preview of
Bombshell
with Karen stepping into the leading role at the last minute.  The episode ended with Karen giving the preview of
Bombshell
and a fantastic ending with "Don't Forget About Me."
We certainly haven't forgotten about you Karen Cartwright!  As we begin season 2,
Bombshell
is headed back to New York with big plans to open the show on Broadway at the St. James Theater with Karen as Marilyn.  But nothing comes that easy does it?  As some of us may have seen in the first hour Sneak Preview of the premiere, many things are changing in our favorites character's lives both personally and professionally.  We can't wait to see where this season takes us with Karen, Ivy, Tom, Julia, Eileen and the entire
Bombshell
team.
Music Theatre International is thrilled to check out the new season of NBC's Smash, and we're celebrating the connections MTI has with many of the actors and creative team members of this musical drama.
Here's how the creative team of NBC's Smash relates to MTI's catalogue of shows:
The list of actors who have previously been cast in MTI titles is also quite exciting.  Smash regulars from season 1 include:
Season 2 brings these amazing actors back for more and adds more two exciting names to the list:
Other cameo appearances by actors previously cast in MTI musicals are: