Special Offer: 10% Off on Your Next Customizable Show Poster or Design Bundle
Special Offer: 10% Off on Your Next Customizable Show Poster or Design Bundle
It's been nearly a year since MTI teamed up with Subplot Studio to offer show posters featuring beautiful, eye-catching designs that can be customized online in minutes…and so far the response has been INCREDIBLE!  To celebrate the anniversary of the partnership, we're offering 10% off your next Customizable Show Poster or Design Bundle.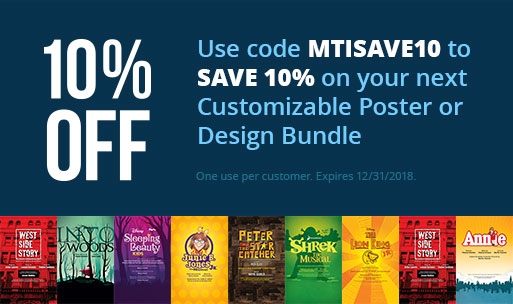 We now have over 60 titles available (with more being added every day), so you can save time, money and get on with the important business of producing a show.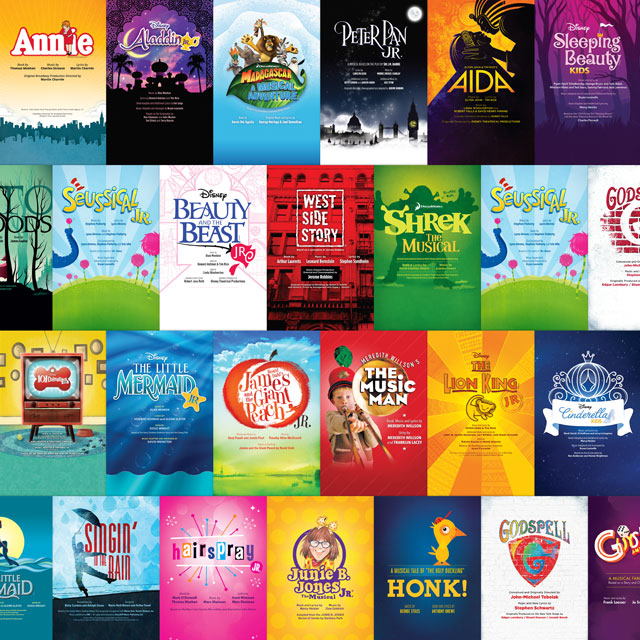 Subplot Studio's team of professional artists and marketers have created dynamic poster templates easily customizable with your organization name, show dates, times, credits and contact information.  When you license a musical and purchase the show's official Logo Pack from MTI, you can use it in conjunction with the superbly designed templates from our friends at Subplot Studio.  The customized posters can then be instantly downloaded as a pdf, and you'll also have the option of ordering high-quality prints.  In addition, the Design Bundle option also includes social media graphics to use in conjunction with your print marketing:
Customizable Poster - $200
Instantly download a high-resolution PDF
Official MTI Logo Pack included
Unlimited customizations
Design Bundle - $300
Layered poster artwork (PSD)
Official MTI Logo Pack included
Social media graphics
$100 with purchase of Customizable Poster
Logo Pack - $75
High-resolution logo files
Color and black/white versions
Included with purchase of Customizable Poster or Design Bundle
11 x 17 Posters - $100 for 25 posters
100 lb. heavy cover stock
Available in quantities of 25, 50, 100 and 250
Note: Additional poster prints in 22" x 34" and 33" x 51" sizes can be ordered in any quantity.