Resource Spotlight: Logo Packs
Resource Spotlight: Logo Packs
Make Your Advertising "POP" and Your Playbills Look Like a "Million Bucks"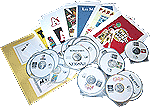 We understand the time and energy that goes into putting on a quality show - the late nights spent in rehearsal, the hours dedicated to painting scenery and sewing costumes, the attention to detail - so it makes sense to advertise your show in a professional manner that celebrates all the hard work and passion that have gone into the production!
MTI LOGO PACKS are a simple, easy-to-use resource designed with you in mind.
WHY GAMBLE WITH SUCCESS?
For a licensing fee of $50, MTI can authorize the use of any of our available logos. All of the logos in the MTI collection have been designed by professional artists - in many cases, they are the original designs used for the Broadway or off-Broadway productions.
GET CARRIED AWAY!
Your licensing fee allows you to use the logo in many ways: on posters, programs, handbills, flyers, commercials and more... add them to your website to advertise and attract more people to your show.
WHAT
'
S INCLUDED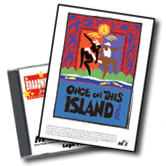 Each Logo Pack CD includes logos in color and black & white with multiple digital format files (TIFF and EPS format). Easy-to-use and ready to go!
Shows with the LOGO PACK resource available include...
AIDA SCHOOL EDITION, ELTON JOHN AND TIM RICE'S
AIDA, ELTON JOHN AND TIM RICE'S
ALADDIN JUNIOR, DISNEY'S
ALICE IN WONDERLAND JUNIOR DISNEY'S
ANNE OF GREEN GABLES-THEATREWORKS USA VERSION
ANNIE
ANNIE JUNIOR
ANNIE WARBUCKS
ARISTOCATS KIDS, DISNEY'S
AVENUE Q
BACK TO THE 80'S
BAKER'S WIFE, THE
BEAUTY AND THE BEAST JUNIOR, DISNEY'S
BEAUTY AND THE BEAST, DISNEY'S
BIG, THE MUSICAL
BOY FRIEND, THE
BUGSY MALONE
BUGSY MALONE JUNIOR
CAPTAIN LOUIE
CELEBRATION
CHARLES DICKENS CHRISTMAS, A-THEATREWORKS USA
CHILDREN OF EDEN
CHRISTMAS CAROL, A
CHRISTMAS SCHOONER
CINDERELLA KIDS, DISNEY'S
CIVIL WAR
COPACABANA
CYRANO
DAMN YANKEES
DEAR EDWINA
DEAR EDWINA JUNIOR
DIRTY ROTTEN SCOUNDRELS
DIVORCE ME, DARLING
DROWSY CHAPERONE, THE
EDGES
EMPEROR'S NEW CLOTHES, THE
FAME
FAMILY AFFAIR, A
FANTASTICKS, THE
FIDDLER ON THE ROOF
FIDDLER ON THE ROOF JUNIOR
FIVE GUYS NAMED MOE
FOOTPRINTS ON THE MOON-THEATREWORKS USA VERSION
FOREVER PLAID
FREEDOM TRAIN-THEATREWORKS USA VERSION
FULL MONTY, THE
FUNNY THING...FORUM, A
GAME OF LOVE, THE
GEPPETTO & SON, DISNEY'S
GLORIOUS ONES, THE
GODSPELL
GODSPELL JUNIOR
GRAND HOTEL, THE MUSICAL
GUYS & DOLLS
GUYS & DOLLS JUNIOR
HAIRSPRAY
HEIDI-THEATREWORKS USA VERSION
HIGH SCHOOL MUSICAL JUNIOR, DISNEY'S
HIGH SCHOOL MUSICAL 1 ACT EDITION, DISNEY
HIGH SCHOOL MUSICAL 2, DISNEY
HIGH SCHOOL MUSICAL 2, 1 ACT EDITION, DISNEY
HIGH SCHOOL MUSICAL, DISNEY
HONK!
HONK! JUNIOR
HOW TO SUCCEED IN BUSINESS...TRYING
IN THE BEGINNING
INTO THE WOODS
INTO THE WOODS JUNIOR
IT'S BEGINNING TO LOOK A LOT LIKE CHRISTMAS
JANE EYRE
JEKYLL & HYDE (B'WAY)
JEKYLL AND HYDE-THEATREWORKS USA VERSION
JUNGLE BOOK KIDS, DISNEY'S THE
JUST SO
LAST FIVE YEARS, THE
LES MISERABLES
LES MISERABLES SCHOOL EDITION
LITTLE SHOP OF HORRORS
LITTLE WOMEN
LUCKY IN THE RAIN
LUCKY STIFF
MAKE ME A SONG
MAN OF NO IMPORTANCE, A
MIRETTE
MISS SAIGON
MOBY DICK!
MULAN JUNIOR, DISNEY'S
MUSIC MAN JUNIOR
MUSIC MAN, THE
ONCE ON THIS ISLAND
ONCE ON THIS ISLAND JUNIOR
PAJAMA GAME, THE
PARADE
PASSION
PHANTOM OF THE COUNTRY OPERA
PIPPIN
PIRATES OF PENZANCE
PIRATES OF PENZANCE JUNIOR
PLAID TIDINGS
POCKETFUL OF RHYMES, A-PRINCE STREET PLAYERS
PRODUCERS, THE
RAGTIME SCHOOL EDITION
RAGTIME VERSION 2
RAGTIME-VERSION 1-BROADWAY
RAPUNZEL-THEATREWORKS USA VERSION
RENT
RENT-SCHOOL EDITION
SATURDAY NIGHT
SCHOOLHOUSE ROCK LIVE!
SCHOOLHOUSE ROCK LIVE! JUNIOR
SECRETS EVERY SMART TRAVELER..
SEUSSICAL
SEUSSICAL JUNIOR
SEUSSICAL-THEATRE YOUNG AUDIENCES
SHE LOVES ME
SHOUT!! THE MOD MUSICAL
SINGIN' IN THE RAIN
SLEEPING BEAUTY KIDS, DISNEY'S
SONGS FOR A NEW WORLD
SWEENEY TODD
SWEENEY TODD SCHOOL EDITION
THIRTEEN CLOCKS, THE
THOROUGHLY MODERN MILLIE
THOROUGHLY MODERN MILLIE JUNIOR
TICK TICK BOOM!
TOM SAWYER, THE ADVENTURES OF
TOMFOOLERY
TOMMY, THE WHO'S
TREASURE ISLAND-PRINCE STREET PLAYERS VERSION
TRIUMPH OF LOVE
UNSINKABLE MOLLY BROWN, THE
URINETOWN
VELVETEEN RABBIT, THE-THEATREWORKS USA VERSION
VIOLET
WEDDING SINGER, THE
WEST SIDE STORY
WESTERN STAR
WHEN THE COOKIE CRUMBLES-THEATREWORKS USA VERSION
WILD PARTY, THE
WILLY WONKA JUNIOR, ROALD DAHL'S
WILLY WONKA KIDS, ROALD DAHL'S
WILLY WONKA-TYA VERSION,ROALD DAHL'S
WILLY WONKA, ROALD DAHL'S
WISH YOU WERE HERE
WORLD GOES 'ROUND, THE
YEAR WITH FROG AND TOAD
YEAR WITH FROG AND TOAD, A-KIDS
101 DALMATIANS KIDS, DISNEY'S
13
25TH ANNUAL PUTNAM COUNTY SPELLING BEE, THE